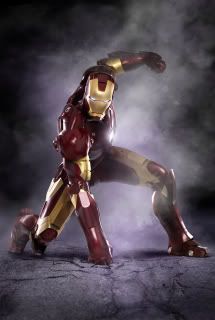 Para aquellos que terminaron asustados cuando
primero publicamos la noticia
del
DVD de Iron Man
ya que la portada de la edición de dos discos era igual que el poster oficial, pues hoy han salido
datos oficiales de los DVDs, además de las portadas reales
. La edición de un disco contiene sólo la película en WideScreen, además de escenas eliminadas, mientras que el DVD de dos discos incluye además:
-Escenas
Eliminadas y Extendidas
-
Especiales de realización
:
I Am Iron Man, The Journey Begins, The Suit that makes the Iron Man, The Walk of Destruction, Grounded In Reality, Beneath the Armor, It's All in the Details, A Good Story, Well Told, The Invincible Iron Man, Origins, Friends & Foes, The Definitive Iron Man, Demon in a Bottle, Extremis and Beyond, Ultimate Iron Man, Wired: The Visual Effects of Iron Man
-
Audición de Robert Downey Jr.
-
Ensayos del reparto
- The Onion:
"El trailer de Iron Man será hecho película"
-
Galería de Imágenes
Sale a la venta el
30 de setiembre
, y costará
$29.99 la edición de 1 disco
, mientras que
la de 2 costará $39.99
. Les dejo las imágenes de los covers de los DVDs.
(click para agrandar)