Les dejo una
nueva imagen
que ha salido de la adaptación del videojuego
Max Payne
a la pantalla grande, protagonizada por
Mark Wahlberg y Mila Kunis.
Un dúo de asesinos intentará acabar con el legado de una corporación peligrosa luego de que ésta se encargara de deshacerse de las familias de ambos. Se estrena el
17 de octubre en EEUU.
(click para agrandar)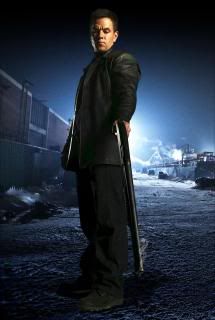 Y también tenemos
tres nuevas imágenes
del remake de ciencia ficción de la película
The Day the Earth Stood Still
, dirigido por
Scott Derrickson
. Protagonizan
Keanu Reeves, Jennifer Connelly, Kathy Bates y John Cleese
. La historia: unos alienígenas vendrán a la Tierra a darnos un ultimatum o de lo contrario destruirán nuestro planeta.
(click para agrandar)